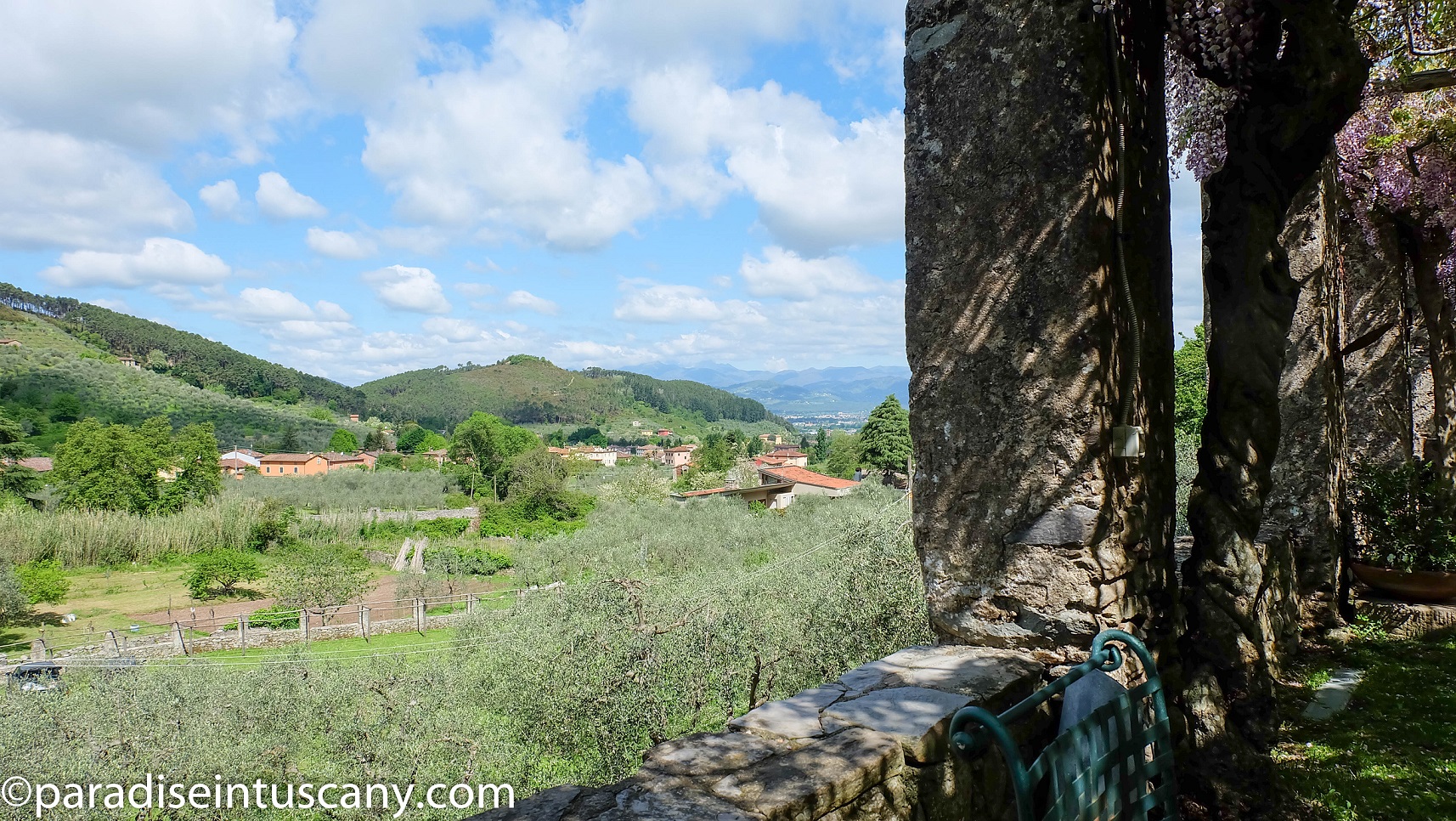 Casa Dotto
Sometimes this is all you need….
Fully refurbished old Tuscan Farmhouse dating back to the mid-1700s located in one of Lucca's best areas – boasting nice views over Lucca with fresh air, beautiful garden and olive grove.
CASA DOTTO - Summary:
Westward located property on a hill side West of the town, with nice view over Lucca and the surroundings, and yet just 10 minutes' drive from the walls of Lucca – the Centro Storico - and 25 minutes from the airport of Pisa. Firenze (Florence) is only 50 minutes away by car.
The land plot includes an olive grove with 100 olive trees, producing excellent olive oil, as well as a cottage of 50 sqm/538 sqf.
It is possible to build a swimming pool in the spacious garden.
Outdoor patio with pergola for al fresco dining.
Taverna with large wood oven on the ground floor.
Elegant wrought iron railing on the stairway to the first floor.
Driving range and putting green at the local Golf Club, 5 minutes' drive from the property.
Heating: 1) Central pellets stove 2) Heat pumps.
Other Details:
Casa Dotto is set out on three floors:
· Ground floor:
o Main entrance with living room
o Kitchen with own entrance and fireplace
o Taverna / Dining room with a wood oven for cooking.
· First floor:
o Living room.
o Master bedroom with en-suite bathroom.
o Technical room / washroom.
· Second floor:
o Living room.
o Two bedrooms, of which one with walk-in closet
o Bathroom.
A few words about Lucca
Lucca is a real jewel with ancient history and yet many modern activities - like the concert season in the summer featuring the most famous pop artists. In the Autumn and Winter starts a quite remarkable concert and opera season at the Teatro del Giglio.
According to Forbes, Lucca is the second-best place to live in Europe, "with the same Tuscan charm of its neighbors Pisa and Tuscany but without the crowds".
Around Casa Dotto there are many local restaurants and wineries. Just 5 minutes' drive from the Villa you can train your golf capabilities or take lessons with a Pro at the local Gol Club at Vicopelago; or you can play at two important golf courses in Tirrenia, just half an hour away.
Key distances (approx.):
• Lucca: 4km/2.5mi
• Torre del Lago (opera festival): 30km/18.6mi
• Carrara marble quarries: 66km/41mi
• Pisa (closest airport): 14km/8.7mi
• Florence: 79km/49mi
• Siena: 146km/90.7mi
• Cinque Terre: 115km/71.4mi
• Nearest shop/café bar – 800mt. /0.5mi
Info about taxes and other purchase costs
Purchase tax as Second home or Non-resident (approx.): 9% of cadastral value.

Purchase tax as a First home and Resident (approx.): 3% of cadastral value.

The cadastral value is typically far lower than the market value.

Registration of contract at Notary Public (approx.) € 2,000.00.

Notary Public fee (approx.) €3000

Technical report for Notary Public: can vary according to the complexity of the task – range € 2000 - 4000

No broker commission paid by the buyer
For a printable presentation, please click here