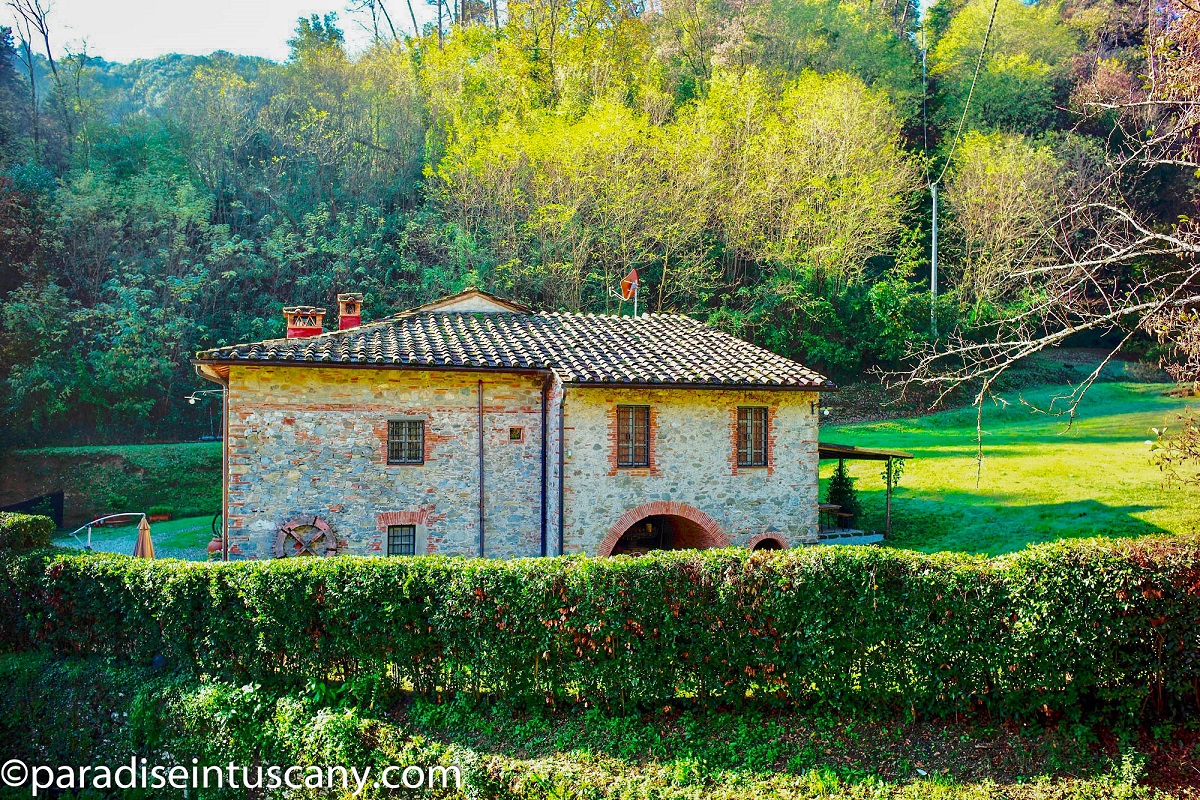 The Old Mill
Charming Tuscan oil mill built in the 1800's - finely refurbished and transformed into 2 living units at the outskirts of Lucca.
• Mulino San Macario – Old Mill and farmhouse - is a small estate of some 5 ha, situated on the hills North-West of Lucca, just 8 km from downtown.
• The Old Mill and farmhouse were both refurbished to a high standard in 2008:
o The Old Mill is where the olives were once processed to produce olive oil and is the main building.
o The farmhouse that has been transformed into a two-flat building.
• Both the Old Mill and the farmhouse have independent access and each its own swimming pool and garden.
• The total plot of land includes a large portion of the hill and its forest including an excellent water source.
• The main building boasts:
o 6 bedrooms – 2 on the ground floor and 4 on the first floor.
o 3 bathrooms with the possibility to build 2 more bathrooms.
o Open kitchen area of about 60 sqm / 645 sqf encompassing kitchen, dining and fireplace on the ground floor.
o Ground floor: living room with fireplace and two bedrooms en-suite.
o First floor: living area with fireplace, four bedrooms and two bathrooms on the first floor. One of the bathrooms on this floor is 40sqm large and features bath tubs built in the old vessels where the millstones where placed.
o Open-plan kitchen outside on the patio for al fresco dining.
• The farmhouse is divided into two independent apartments - each with kitchen, living/dining room, bedroom and bathroom.
• The apartments in the farmhouse are often rented out in the summer tourist season. They can be rented out separately or in total to one party and have an income potential in excess of € 30k pa. The income potential of renting out the Old Mill in the tourist season is in excess of € 50k pa.
• Heating: LPG and fireplaces
Key distances (approx.):
• Lucca: 7km/4.3mi
• Torre del Lago (opera festival): 27km/16.8mi
• Carrara marble quarries: 61km/38mi
• Pisa (closest airport): 38km/23.6mi
• Florence: 75km/46.6mi
• Siena: 151km/93.8mi
• Cinque Terre: 116km/72mi
• Nearest shop/bar – 700mt /0.4mi
Info about taxes and other purchase costs
Purchase tax as Second home or Non-resident (approx.): 9% of cadastral value.

Purchase tax as a First home and Resident (approx.): 3% of cadastral value.

The cadastral value is typically far lower than the market value.

Registration of contract at Notary Public (approx.) € 2,000.00.

Notary Public fee (approx.) €3000

Technical report for Notary Public: can vary according to the complexity of the task – range € 2000 - 4000

No broker commission paid by the buyer
For a printable presentation, please click here